Projects
Bloquinho da Maré(websérie)

O Tesouro de Nara(in progress)

Turma do Paque(in progress)

Família Furikake(in progress)

Dom Casmúsico(in progress)

Pira-Piratas Os Piores Piratas do Mundo(in progress)

The Good Broccoli(in progress)
About Us
Beach Park Studios is an independent animation studio and production house,
a branch of the Beach Park Entertainment Group, with main focus in education and children's content. Founded in December 2015, Beach Park Studios already has more than 225 minutes of animated content on YouTube.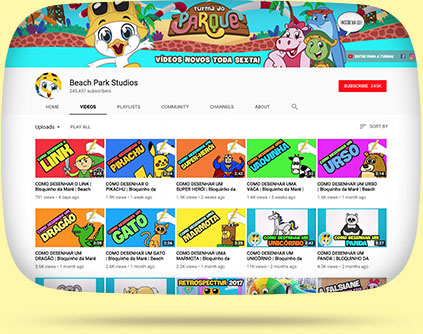 youtube.com/beachparkstudios

Our Time
Enéias Façanha | Executive Producer and Production Manager

Enéias Façanha has a graduation in Actuarial Science by UFC – Universidade Federal do Ceará –, has an MBA in Business Administration by FGV and Business Management by UFRJ.

Enéias manages the operations of Beach Park's start-up initiatives: Beach Parl Studios and Beach Park Produções.

Fábio Yabu | Creative Director

Fábio Yabu, born in Santos, Brazil, 1979, is a children's book and comic book writer,
and one of the best known authors of his generation. He has published more than 20 books in the biggest publishing houses in Brazil – Panini, Globo and Record, and in Portugal by Porto Editora. His comic book series, "Combo Rangers", debuted on line in 1998 and has gathered a legion of fans across the country, being published until today by JBC Editora. In 2002, he wrote a children's book series called "Sea Princesses", which became a sucessful TV series, spawning 104 episodes in co-production with Australia's Endemol and Spain's Neptuno Films. "Sea Princesses" aired in 50 territories, including Latin America (Discovery Kids), Germany (Kika), France (Piwi) and the UK (Disney Junior).

Felipe Camêlo | Animador

Felipe Camêlo is an animator and illustrator, and has worked in many advertising agencies and animation studios in Fortaleza. His skills include character design, comics and children's books, rigging and pixel art. Felipe is married and is father of two beautiful dogs.

Clemente Maciel | Video Editor and Motion Designer

Clemente Maciel has an graduation in advertising, is a video editor and a teacher of motion design. Has worked with many advertising agencies, broadcasters, production houses and animation studios, both 2D and 3D.